Family – Friends – Community
Our mission is simple: Dream-Innovate-Create.
OUR CUSTOMERS NEEDS DRIVE US…
To become industry leaders through knowledge, training & experience
OUR EMPLOYEES DRIVE US…
To perfect, promote & celebrate the finer points of our work
OUR COMMUNITY DRIVES…
To bring together precision, pride & passion for the betterment of our community
DID YOU KNOW? Neighbourhood Landscaping Inc. started out with just a small group of students in 2003. We have strived among the years to be the best and most up to date landscaping company in the GTA. With confidence, we are constantly expanding our efforts to become more educated in all facets of the industry.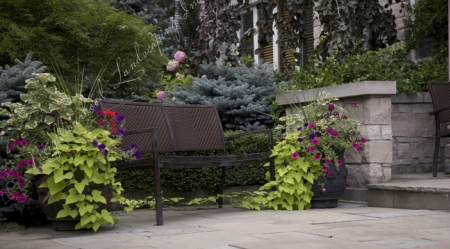 Daily interactions and weekly company meetings have helped us keep a close knit family, which we strongly believe helps us to achieve higher goals and service you better. Close relationships with neighbouring friendly vendors has not only strengthened our rapport, but also given us the capability to know where our products are coming from and that we are providing only the best for our community.
We are proud and very active members of Landscape Ontario and are constantly working with them to improve safety, knowledge, and standards for the industry. We are also proud members of the Canadian Nursery Landscape Association. In 2012, we were awarded the Landscape Ontario Award of Excellence for Residential Construction.
Meet Our Team