Neighbourhood Landscaping (NL Inc.) takes pride in its work. The added effort is visible in every stage – from the initial design to the final product. The effort and pride that is put into the work leads to an important result: transparency. NL Inc. is very transparent about everything it does because everything is done according to or better than industry standard. Transparency offers our clients peace of mind that the project will be done correctly.
Design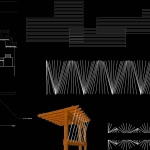 NL Inc. has a three stage design approach:
Meeting with the Client
The first is the most important stage of the design process; it involves sitting down with our client, listening to their needs, and understanding their wants. Once all possible information is gleaned from the meeting, the process moves onto stage 2.
Sketches, Inspiration, Revelation
The second stage is when the client first gets an idea of what the project will look like. Ideas are bounced around in the form of sketches and clients are encouraged to do their own research online or in their neighbourhood. When a source of inspiration is found, the final design starts to reveal itself.
Final Drawings
The final stage of the design approach is the final drawings. The client is presented with all necessary drawings for the project and can now start to see the project coming to life. Material, equipment and labour take-offs can be done from these drawings, and then begins the construction phase.
Construction
Softscape Construction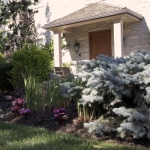 A common problem in many landscapes is that the grading is done incorrectly. Poor grading leads to poor drainage and can often cause flooding in basements or rapid landscaping degradation. NL Inc. has all the tools and skills required to properly grade a property to prevent any undue damage from poor drainage.
Laying sod involves proper grading of the native soil, and several other steps that ensure the sod will thrive on a property. The steps to successful sod laying include a 2" thick layer of fresh triple mix soil, leveled and graded, staggering of the seams between sod rolls, and rolling following installation.
Hardscape Masonry Construction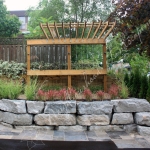 Since Toronto has such extremes in weather, interlocking patios, walls, or driveways can fail and buckle fairly quickly if they are not constructed properly. NL Inc. takes pride in its constructed landscapes, and goes beyond minimum construction practices to ensure that the final product will last. Examples of such practices include the use of stone that was exclusively designed for the northern climate, a minimum total base of 8" for patios and walkways, and 12" for driveways, and the use of non-corrosive plastic edging.
Retaining walls are ideal for areas that have steep grading or where the native soil is very poor. Whether they are built from stone or wood, NL Inc. builds walls that are both beautiful and durable. Only premium materials are used; tie-backs and Geogrid reinforcement are used where site conditions dictate the need.
Hardscape Carpentry Construction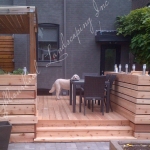 Wood is both a beautiful and renewable material, which always makes it a great choice for landscapes. When working with wood, NL Inc. seeks to both push the boundaries of the material in creating a dynamic and unique landscape, and to use better than required building practices. Wood, if not treated properly in the construction phase, can rot and degrade quickly which leads NL Inc. to use such practices as never exposing wood to ground, and using flashing when abutting wood to another structure (such as the bricks on a house).